Because I forget stuff. Part of norcimo.com
Note: It appears you must have reached this page by a deep level URL. In general this site is currently down and unmaintained. See here
General
Posts which don't seem to fit into any other category get put here. Expect random musing.
Posted into:
on August 12 2012 at 22:08
This is the coolest yo-yo trick you will see today, or this year.
Posted into:
on August 9 2012 at 22:08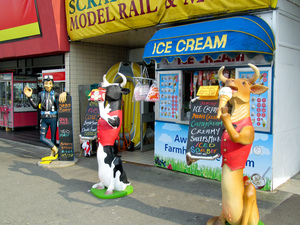 After Inspiral Carpets/Happy Mondays and The Stone Roses it's a continuation of the theme as a couple of weekends ago Jan and I vanish to the seaside for the Sound Island Festivall (in a park, not on an island), featuring The Farm, Inspiral Carpets (again!), Cast, Echo and the Bunnymen and James
Posted into:
on July 25 2012 at 18:07
This post has been updated and reproduced on my new site.

And now for a tale of a bit of a failure at finding something online. I was half convinced I'd mentioned that searching the internet on this has failed me before, but if I did I don't know where (In general it's a sign one is struggling when the first hit for a search is your own page—and I wonder how long until this one joins it). Anyway, basic premise and frustration: It seems impossible to find photos of my old school (I should point out that by old school I also mean the old buildings, from before they built the "new" buildings and knocked the old down to form the current playing fields).
Posted into:
on July 19 2012 at 22:07
So what is this, a gig review site? Well, there may be a bit of a review coming up, involving a Friday stood in a field, following quickly on from the rather delayed last one. There's more than just a review though—as Jan and I undertook something more like a tour of the north-west's two premier cities
Posted into:
on July 18 2012 at 22:07
It seems I'm absolutely hopeless at blogging at the moment, but I'm going to try and get this up before I go and forget. A Thursday a, er, few weeks ago Jan and I went to see a gig with the Happy Mondays original line up (together again for the first time in umpteen years) supported by the Inspiral Carpets, at Newcastle Academy.
Other Posts on General
© Ian Scott. Powered by Movable Type 3.2. This blog uses valid XHTML 1.0 Strict and valid CSS. All times are local UK time. For further details see the IMS_Blog about page.. All my feeds in one.