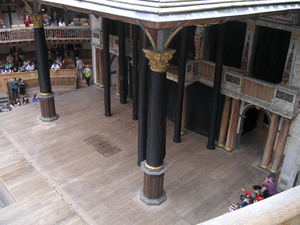 In the continuing effort to find things to do, Janet and I went all cultural (and I'm actually updating this blog with such in a reasonable time scale!)
They say All the world's a stage but it was the reconstructed Globe which supplied that to entertain us, with a performance of Shakespeare's As You Like It [full text on Project Gutenberg] (from which that quotation comes). Very enjoyable it was too (despite a desperate need for the toilet near the interval). The Globe really is a wonderful reconstruction—no one is entirely sure what the original would have looked like but the present day version certainly seems to give a sense of what it would have been like, complete with those standing members of the audience (and the actors) getting wet in the rain! It was quite a surprise to me to find the cast moving into and about that audience so much (Jaques [Tim McMullan] appearing at the end of our high up row at one point, unheeded until he spoke such was our engrossment).
In all it was all very jolly. I'd sort of forgotten how enjoyable (particularly Dominic Rowan's Touchstone) Shakespeare can actually be when you see it performed, rather than reading the script on page or screen. If you get the chance to see it as it should be like this then I highly recommend it.