Taken me a little while to write up, but a week and a bit ago saw a little trip up north for some comedy entertainment, then a romantic Valentine's break to York. The first part of that wasn't the best, but the second part was lovely. Details follow.
Getting up to Newcastle in the first place turned out to be a bit of a struggle. We left London around lunch time, already knowing it was going to take a while longer than usual due to engineering work. That work made us later than expected though, then somewhere near Retford it turned out some member of the public had managed to cut down a tree across the lines! Got there in the end though quite tired out by the time we were welcomed by Janet's mam.
Sunday was pretty busy, so much so that even though we caught a few glimpses of it we didn't get a chance for a proper look at the rocket in case they pull it down before we're back up (wonder if I'll be able to get a piece to go with my carpark). Those glimpses mainly came on the way to see my dad (cup of coffee, chocky bickie, cake). That in itself was timed to be on the way over to the main event of the event of the evening, Peter Kay at the Metro Radio Arena
Peter Kay
A fairly positive review form the local paper can be found here. Personally though both Janet and I found the show disappointing. There was some decent material at the start of the second half but mainly it seemed to be tired jokes and poor lines. Misheard lyrics as the culmination of your comedy? Come on, that's been done to death by every bored local radio afternoon DJ with a talkshow to fill, surely. We actually left as his sing-a-long "extravaganza" got under way.
York
Onwards the next day to York though; at least that could cheer us up. Didn't get off to the best start when we decided to wander down to the Metrocentre and hop on a bus from there. Who knew it doesn't actually open until ten? So we ended up walking the long way round the outside to eventually find a bus to the station. At least the train was fine.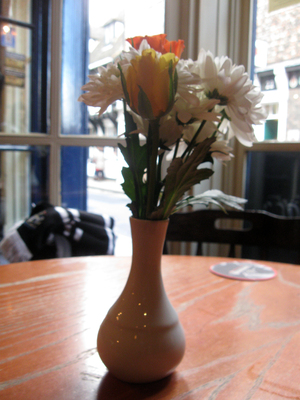 One of the problems with arriving somewhere well before check in time is always baggage. Never-the-less we struggled on to the Three Legged Mare. Even for a Monday morning in February York seemed quite quiet as we sat in the "Wonkey Donkey". Still, I could take pleasure in the York Brewery beer, and they did put some nice flowers on our table. Still, we couldn't stay sat in the pub all day, so went for a walk around the little shops and a few of the sights. Managed to find ourselves in the second York Brewery pub of the day though, in the Yorkshire Terrior. There an elderly lady who wandered in seemed a little surprised that they didn't serve tea (a fair assumption we felt, given the nice looking conservatory bit and—unbeknown to her—the fact it looks like an aged living room of upstairs). Still, at least the staff directed her somewhere more useful.
Onwards we went too, and completed our little tour of York Brewery pubs with the Last Drop. There we decided to eat and while Jan's spicy baked potato (which came in a lot less time than the threatened possible thirty minutes) was I'm told very nice my pie was a bit disappointing. Looking impressive on arrival it quickly became clear it was mainly bowl, filled with tasty gravy but not enough filling and topped with a pastry lid which very quickly became soggy and pointless. Ahh, never mind, more food below!
After a bit more little shop spotting we made our way to the hotel a little spot of newness amongst all York's history. Not much to say; clean, comfortable about what you expect from a decent modern hotel.
Monday Evening
A quick refresh and chance and out and about in the, er, not really bustling York. Places like the Hole In The Wall (an old fave of my mother) seemed too empty for Valentine's night. We actually ended up in a pub I hadn't been in before (yes, there are some!), the Guy Fakes (reputedly on the site of Mr Fawkes's birth). There I was able to enjoy the fine Copper Dragon Golden Pippen.
We hadn't been planning on going out for dinner, having not booked anywhere and assuming things would be pretty busy. Having seen how quiet everything was though we just couldn't resist the short trip up the road to eat in Cafe Concerto. Jan went salmon mad, with both salmon starter and main. I meanwhile started with a delicious duck confit, followed by a tasty risotto (an usual choice for me). I was the only one with enough room left for an excellent Cafe C pudding though. All wonderful as always. We wandered to bed unable to face the pints we bought on the way that tipsy and stuffed were we, and thoroughly contented.
Tuesday
Next morning we solved the bag problem by dropping them off at the station left luggage, a convenient location given I obviously wanted to go to the National Railway Museum. They've had a bit of a rearrange since my last visit (Mallard is currently at Shildon for instance). Good to see the streamlined Duchess of Hamilton.
After that it was back to wandering the little shops and pubs of York. The Royal Oak has changed (I remember when the gents were in a separate block outside at the back, the food was good, the staff not overly friendly and the rear room didn't have disorientating wallpaper—I nearly walked behind the bar twice). There we got to see a man put on a too small shirt and wedge a coathanger behind his shoulders. Passes for normal in York!
A quick little wander around more shops (Jan got a couple of nice cards from Daisy Taylors) and onto the Minster. Despite walking past it countless times when I lived in York I'd never actually ventured into the Minster (Jan had been on a school trip years before). It's quite impressive, as such things are designed to be. The Chapter House, sort of attached to the side, is quite interesting too. Pity they didn't seem to have the tower open to go up and enjoy the view (because I Gift Aided entrance we can now, like the London Transport Museum, go back anytime in a year for free. If we pop to York at some point it might well be worth calling in to see if we can get up all those stairs).
That left just about enough time to get mementos from some more shops (Shared Earth is always good, even if Jan got some scary dolls in a bag. Surprisingly all I found in the cat gallery was a cat shaped cookie cutter) and a couple of more pubs— another new one for me in the Punch Bowl and on to the wonderful Black Swan, complete with cat which may have been called Salem, and seemed to own the place (we went to the Black Swan because I recalled it was good, and thought I could see it from the hotel window. Thinking about it this last point is clearly not true; think I was thrown by another old favourite of my Mam, the Mason's Arms on Fishergate). Glad we did head for the Black Swan though or we'd have missed said cat, the open fire, good beer and the entertainment of listening to the gents outing discussing folk music through the years (especially Strawhead), followed by the two who stayed as the others moved on drunkenly complaining they'd seen nothing but pubs!
The wend back to the station saw a quick call into Give The Dog A Bone just in time before it closed up for the evening and then freezing waiting around for the late train. All very enjoyable though!