Anyone in the country can hardly have missed the great big wedding happening in London this Friday just gone. Having pretty much zero interest in such events, Janet and I decided to evade it as best we could by going to see a castle in the relatively nearby town of Rochester. This turned out to be a bit of mistake.
The signs were good; there seemed to be bunting, and a little fair by the castle spotted from the train pulling in. There were even signs for some sort of festival. The first signs of problems came walking down the High Street (the only place in town it seems), which was pretty much totally deserted. Never-the-less, we had a look round the cathedral (nearly getting lost in the Crypt). The signs also declared that we were a day early for the Sweeps Festival.Never mind, never mind. We retired to Ye Arrow pub for a quick drink (wedding unfortunately on the big screen). That turned into some quite reasonably priced food as well (mushroom wrap thing for Jan, chicken burger for me).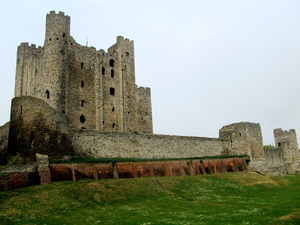 Refreshed, onwards to the castle (that's it from the outside in the photo). There we found a little sign at the entrance. Closed all day. To celebrate the Royal Wedding." Ahhhhh. Damn you, Rochester!
We made the best of it with a stroll round the outside and a look around the second hand bookshops (one can believe Baggins's claim to be the largest in the UK—we didn't even make it to the end), A pint in the Jolly Knight (which turned out to be connected to Ye Arrow). followed. Looking for adventure we also strolled across the bridge to Strood, which even with my almost holding a (male) stranger's hand on said bridge and the two men having a semi-jovial fight, seems best forgotten.Back across the bridge and into one pub too crowded and onto another where we waited an age before being served, but at least they had a pleasant beer garden. There the trees dropped bits in our pints. Damn you, Rochester!
We will return!