Another thing it's taken me over a week to mention is that Jan and I went to the cinema to (finally) see An Education. This isn't particularly a review of that. Suffice to say I can see why it got awards nominations. It's a "critics film", all so neatly put together and appealing to their general sensibilities. Neither Jan nor I thought it was that great (quite boring at times, actually). Personally I found the lead character a little unbelievable (however well acted) and far to towards a clichéd idea of critic's intelligence (oh look, she speaks fluent French and plays music and…). The ending was also predictable (oh look, it all goes pear shaped and she does her exams and gets where she's going) and possibly a bit rushed given how long it took to get there. Three stars, I suppose.
Anyway, back to the point. Perhaps one of the reasons the movie seemed to drag some is the length of time it took to actually start. I couldn't help but be reminded of the recent cartoon (not sure of original source, this is lifted from here) comparing watching a pirated DVD to watching a legitimately bought one: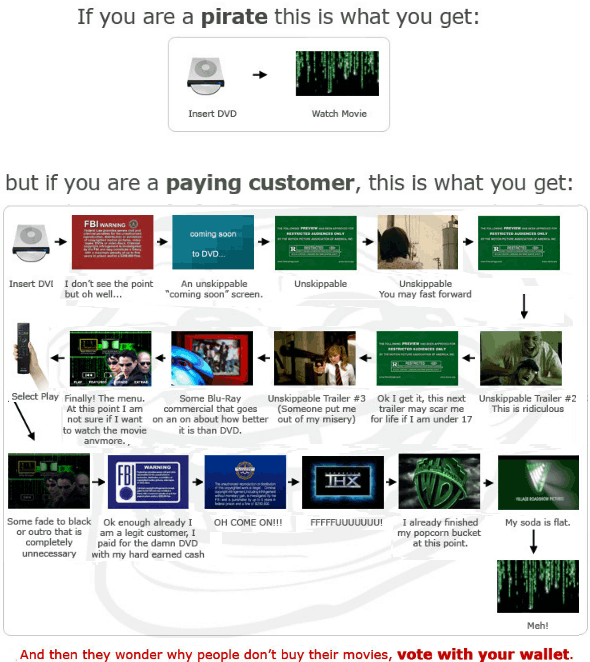 >
I wasn't particularly timing but a for a movie time of ten to nine didn't even get to the adverts proper until about ten past. Until then we were treated to a dull loop of a small number of provincial still ads. Amongst these was the one warning not to attempt to record the forthcoming delights (if we can stay awake long enough to do so), over and over again. This is what irks a lot of people. Given the not insubstantial money paid out for the privilege to sit in the establishment they decide we must all be potential criminals. If they're that worried about revenue perhaps they should look at the fact we just wandered in without even the hint of tickets being checked, no staff in sight.
The still ads give way to ads you've probably seen a hundred times before on TV (your here to see a movie. Just slow down there…) Eventually the trailers arrive; these are the least objectionable aspect in at least they may show what else you'd like to wait eternity to see but I'm pretty sure that they also include yet another reminder that piracy is bad, yeh, as if you the legitimate customer who has already paid and is sitting in a cinema, for fuck's sake are obviously just there to see what to rip off the internets later.
The movie started eventually. I think Jan and I had to nudge each other to wake up for it. The thing is I can't think of another entertainment where this would happen. Theatre tends to run roughly to time, and doesn't bombard you with ads and injunctions not to be a criminal. Gigs notoriously start late but again, no adds, and normally a warm up act; besides, that actually builds anticipation. Imagine if football matches didn't start at the published kick off time but flashed up ad after ad, all the while telling you not to steal the balls. It's frustrating and it's wrong and that's why people get sick of the cinema and turn to DVD, where they get sick of the cartoon and turn to other means.