Doctor Perkins came to see the delights of Newcastle at the weekend. In a fit of inspired maddness we decided to get a Metro to the coast. Warning: Large pictures follow!
We started off in Cullercoats, with its sandy beach and boats in the bay. Proper seaside you know (thankfully Ed resisted the temptation to buy a kite): [click each photo for the full blown, original size version if you must btw]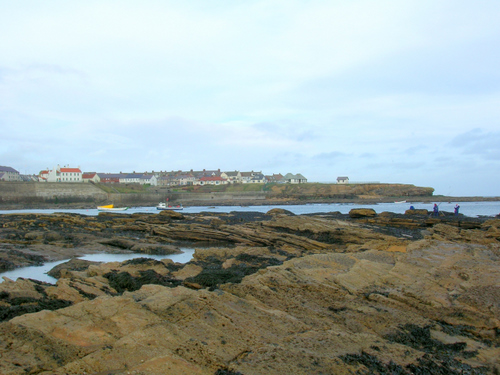 The boats in Cullercoats bay, from the rocks we ended up walking across
The plan was to walk along the coast to Tynemouth. Of course we couldn't take the sensible route along the road but decided to navigate the slippery, seaweed covered rocks:
Careful, that seaweed is bloody slippy
Ed seemed to enjoy leaping from rock to rock at least, getting as far out to sea as possible:
Ed waves goodbye, just before diving into the sea to join a school of mermaids
Ed had complained that the waves at Cullercoats weren't really worth mentioning so after scrambling around the rocks it was gratifying to find my prediction that they would be better nearer Tynemouth was at least partly right. Walking along the beach—or, more accurately, playing chicken with the sea—the waves became almost impressive. The conspiracy of the universe meant that as soon as we turned on camera's they dies down to virtually nothing again though, so the best i got was this:
Some quite pathetic waves. The better ones died as soon as the camera came out
Never mind though, by now we had the target of Tynemouth well within site and the way was clear, if still seaweed covered (and this picture actually has some better waves)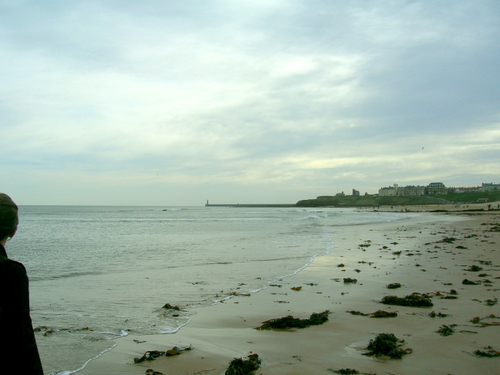 Ed looks towards the destination and wonders just how much seaweed there can be in the world
The seaweed could not halt us though, and we forged onwards, only marginally damp from misjudging the sea, and up to the headland of Tynemouth. Where sits the castle
The castle gatehouse with its barbican
Inside the gatehouse. Looking north-west across the Great Chamber, with the hall below
and the priory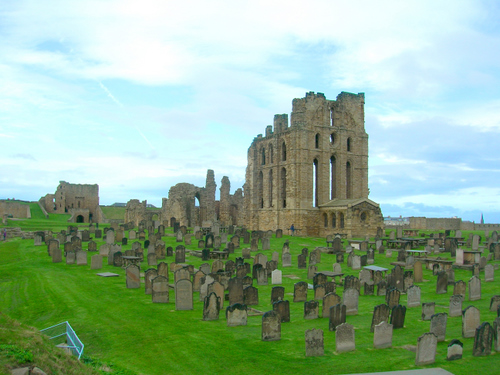 The priory church lies to the north-west across the grave yard, the presbytery still standing almost to its full height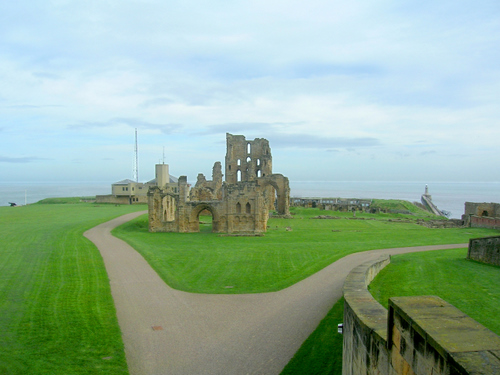 The priory church remains, as seen from the castle gatehouse, with the North Sea beyond
So there you have it. After that tour of the priory and castle we buggered off for some decent enough lunch at a pub (which really needs to sign its toilets better), had a quick look round the market at Tynemouth Metro station (mmm, bismuth hopper crystals) and made it back to Newcastle. A couple more pictures to finish off: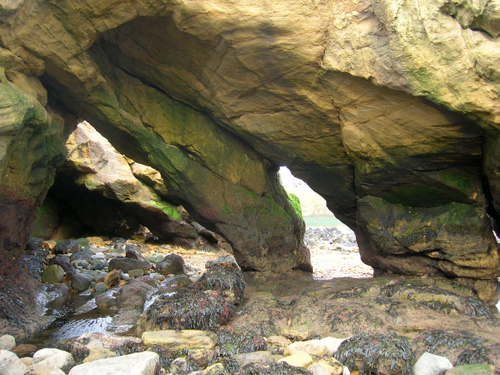 A cavern worn out by the sea beneath the rock spur between Cullercoats and Tynemouth
A detail of the south-eastern corner of the presbytery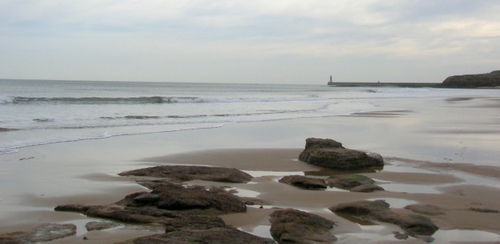 Tynemouth beach and North Sea
These and yet more photographs are available in the coast walk gallery and Tynemouth castle gallery.
Update: Some spelling corrected :-) Also, Ed has added one picture to his journal, the lazy thing (that's me in it though)