Way back last year (in November!) since I last posted, so really must say something to get back in the habit. I was aiming to hit this blog's sort of unofficial anniversary (which would also have fallen on the slightly interesting date of 11/1/11 but as I've managed to miss that I'm determined to get something out before my birthday.
And I've actually made it! Oh, and happy birthday to my Dad, for it is his birthday today!
Anyway, catch up follows…
Cinema
Janet and I seem to keep on failing miserably to go to the flicks but she did manage to drag me along to Croydon's David Lean Cinema (which needs a quieter ventilation system if you ask me) to see The Kid. It's an uplifting true tale of a man's triumph over childhood abuse (and has the added interest of being Croydon set), but is in the end overly long, and I wasn't keen on the intercutting of real life footage at the end, which broke the illusion that we'd been watching the actual character somewhat. think the current IMdB score of 6.5/10 is about right.
Windmill
I've mentioned Brixton Windmill before. Just to say things are coming along nicely, as can be followed at the restoration blog
Footie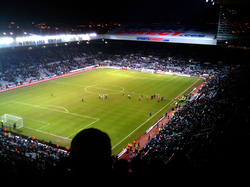 Managed to catch the enjoyable comfortable win over Liverpool (though the atmosphere was rather strange given the bizarre sacking of Houghton and appointment of Pardew) and the disappointing Manchester City game (where we went to sleep for the opening ten minutes and never could recover from the two early goals despite being the better team). I blame the hat which my Dad gave me for that one, which I wore for the first ten minutes.
Work Christmas Dinner
Involved eating nice food and drinking more wine and whisky than good for one at Bermondsey Kitchen, just down the road from the office.
Holiday Period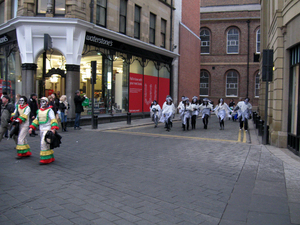 Christmas and New Year themselves were spent back up in the north east. Unfortunately a bought of cold for both myself and Jan, and the continued snow and poor weather, curtailed activities somewhat (we both spent the Wednesday between Christmas and New Year in bed ill). Still, we managed to see a lot of the Metrocentre as usual (both actually shopping and just passing through). Also managed to bump into the winter festival in Newcastle (at one point seemingly being chased by some of the performers emerging to take their places), just like we did last year.
I also made christmas cake and mince pies again, but no pics this time as they weren't as good as the last lot. Oh, and the first cream eggs have now been consumed!
Homeopathy—It's Bunkum
I seem to be waging a slow burning campaign against the rubbish which is homeopathy; the last three links on the (infrequently updated) Links of the Moment page are against this silly practice
Upcoming:
In an effort to encourage myself to actually get back on this blogging bandwaggon, a list of upcoming events which might well get a future mention:
Birthday

As mentioned, it will soon be my birthday!

Peter Kay

Janet and I will be going to see Peter Kay at the Metro Radio Arena, Newcastle in February

York

After Peter Kay we'll be taking a little Valentine's Day trip to York (where I once lived), for a quick look round (National Railway Museum and some York Brewery pubs a must).

Getting Carter

Or at least a piece (oh, I'm so mysterious sometimes)

Firefox 4

The next version of Firefox is coming, probably next month. I'm setting up a profile using portable versions of the betas now.

Dr Perkins

Ed is visiting in March, excitingly with the undoubtedly better half! Undoubtedly we'll find something to wander around London town doing, and hopefully not getting in too much trouble.

An Honest Man?

And, come May, Gary will be getting married. Woo!

Project 365

I'm getting quite tempted to have a go at Project 365, just to see what I come up with. As I've missed the start of the year I thought my birthday might be an obvious start date. We'll see.

Other Visitations

I've promised Janet a trip to the London Transport Museum at some point, and I know eventually she'll drag me to Camden Markets. And talking of photography, there's an upcoming street photography exhibit that might be an excuse to visit the Museum of London.
So, watch this space!!