I could talk about how long it still takes me to actually post about things these days but let's just get on with it shall we?
A couple of weeks ago now brought another little trip as we went to see Dave Gorman in Brighton (the music playing as I write this is some really random and obscure Buffalo Tom tracks because I searched the blog for mentions of Dave, found a 2007 entry and went looking at other things—this is the sort of reason nothing ever gets written around here). Anyway, on the way to see Dave we went to see a castle…
Lewes (With Castle)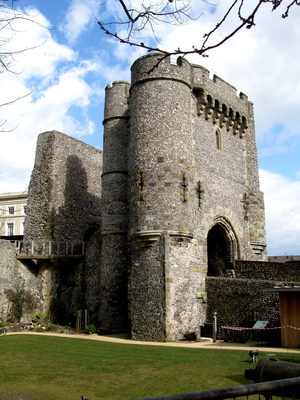 As we had an entire day to kill and Dave wasn't on till eight in the evening, and it was actually sunny, we decided to head out to Lewes, if for no other reason than there's a castle there. Lewes itself seems a lovely little place, all neatly laid out beneath the chalk cliffs which surround it. Fortunately a sleepy Sunday morning seemed to mean that the many bookshops didn't seem to be open, which at least meant we did get to see the castle!
The castle itself I'll probably write about more at some point. There isn't a great deal left of it but it does have a couple of impressive feature, once your off the High Street and so can find it hidden away. The barbican is quite impressive, though it seems a shame that now the route through its arch (and the Norman gatehouse hidden behind) isn't actually the way into the castle. Standing guard above it is the partly ruined shell keep, still standing proud. It's picturesque more than an example of military might these days but would have been more impressive before the moat was filled in and without the pretty winding modern stairs leading up to it. The view from the top is certainly worth the climb though, the peak of one of the mural towers giving fantastic views over the town below to the cliffs beyond. It also allows you to look out towards the castle's second motte. Lewes is very unusual in that it originally had two mottes connected by a single bailey. It's a shame later encroachment has pretty much hidden the connection, particularly as Brack Mount, as it is known, isn't accessible.
Still, the visit was very pleasant, as is Lewes itself. We've resolved to go back at some point in the summer, probably combined with a visit to the slightly further afield Pevensey.
Dave Gorman (In Brighton)
After our little exploration of Lewes we set out to Brighton. This involved a bus as the trains were typically not running that day. The trip was short and not that bad though, apart from cheeky bus drivers! Brighton is somewhere we've been before, which meant we weren't too bothered about not having much time there. It does however mean that we did know there's an actual Lego store there. Yes, Lego was bought. Strangely I don't think we actually saw much sea though.
As I do like a good pint of Hophead in the Green Dragon we also went in search of its beginnings. This turned out to be something of a mistake as a) It's not a great pub b) There was a man with the strangest hat c) They fed Janet some sort of pear cider on a lethal level, because they don't seem to believe in normal cider. Even though she thankfully only had a half I don't think the poor pixie quite recovered!
After a some food though we did finally make our way to the theatre (finding it earlier on had proved to be a good decision as we wandered up and down the same street three or four times before I realised I was leading us along the wrong street). Dave was good—I don't think this is the funniest of his shows but still laughing out loud. It built speed as it went to a typical Gormanesque reveal at the end (no spoilers to exactly what here).
The wines consumed during the show probably didn't help our stumbling back up the hill to catch the late train back. Arriving back in Croydon I did something I haven't actually done since moving down and got a black cab (though I didn't have to hail it). Does that make me a proper Londoner?