Monday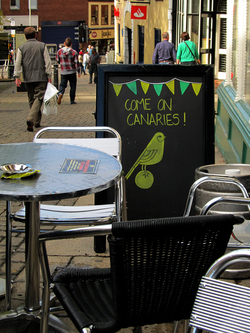 We started pretty much as last time, wandering from the station via the Compleat Angler (which had awful music and two mackems at the time) up the hill to the main part of town. There we were foiled in our plan to do as last time and sit a while in the Sir Garnet Wolseley next to the market as it seems to be closed :-(. The market was open however, despite it not being Thursday (why Janet momentarily thought the market would only be on a Thursday was later beyond us, especially as we'd been there on other days before). Instead we had to head for the Murderers (or Gardner's Arms if you prefer). At least they too have tables outside, complete with numerous signs warning that if you have a drink you must sit at one of those tables.
After a bit of a relax we wandered round and then headed further afield, ending up in the slightly boring but conveniently on a corner Delaney's. There we had what was perhaps a hint of the strangeness to come later. Sitting quietly supping a pint I observed a man crossing the street outside, holding aloft an umbrella (note that we were blessed all week with lovely weather, and it was sunny and warm). As he passed out of sight behind traffic for a moment he simply vanished. He didn't re-emerge, there was nowhere obvious for him to have gone. Spooky.
We also found the Belgium Monk which has a wide selection of stupidly overpriced and over strong beers it will only sell halves of. Hmm. At least the Ribs of Beef was as nice as we remembered :-)
After a bit more wandering we eventually wound our way to accommodation, the same place as last time, though a different apartment within that building. After a bit of a rest we headed off for food, and couldn't resist a return visit to the excellent Figaro's. More Funghi Al Figaro and meatballs. This time I had that Antony's Portion for desert.
Wandering home later that night we ended up in a pub who's name unfortunately escapes me. There I became the font of football knowledge with updates on Norwich beating the mackems (hence the two in the Angler earlier). This despite the fact that the pub was the least Norwich fan populated place, with gooners and others. In the end I ended up helping to push a random blokes car before we headed for sleep.
Tuesday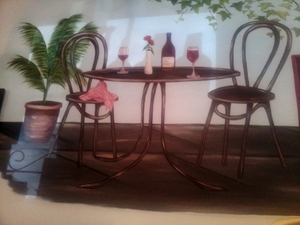 Tuesday was our first proper day, so we headed out in the bright sunshine with a spring in our step. Unfortunately Jan was feeling a little zoned out (I blame multiple orgasms—but then I would) so we took things steady going into town. The upside of that was we found a nice little place to have tea down Upper St Giles Street (unfortunately I have no idea what it was called, despite having been there each morning! Run by a lovely foreign young lady). The tea I'm told was good and I can testify the coffee is perfectly drinkable. Lovely atmosphere with Classic FM. The food being eaten at another table looked quite good too, and the cakes in the window (which I somehow resisted) looked pretty nice!
Anyway, Jan had something of a tea thirst so we also ended up in the Copper Kettle. Nowhere near as good, which was a pity. More an average greasy spoon than the relaxing St Giles cafe—though at least we could debate the commonality of the name Copper Kettle. With a day to kill we headed off for a stroll around the river. It's as pleasant as I remember, despite my wandering down what turned out to be a dead end and the long diversion through some corporate car parks. Of course the stroll give us the chance to sample some of the pubs along the way. The Red Lion was particularly pleasant, sitting outside by the river, watching the various locals and tourist make their way across Bishopsgate Bridge. Plus the man talking to himself at one of the other tables.
Pulls Ferry is as pretty as ever, and we were entertained by the dogs jumping in and out the river there. We headed from there basically following the man who had been photographing (filming?) said dogs, up towards thea cathedral. Having visited that last time we didn't feel the need for another wander round so headed as best we could work out back to the river, finding the Compleat Anger again.
The river then takes you past the station towards the football ground and Carrow Bridge. On the way we noticed the Dood was out. We had a rest by the Boom tower (and I had a wee against it!). Before heading back to town and then some rest before the main event of the day.
Dave Gorman
Off we went to see Dave at Norwich Playhouse. We had sort of planned on a pint in the Ribs just down the river first but as when we arrived the barmaid vanished to "change a barrel" and we were pressed for time we ended up in Mischief. Never mind though, on to the show!
Dave's support was a guy called Jay Foreman, basically a comedic musician. He did quite a few pretty funny songs, including a Beatles bit where he asked "Who likes the Beatles?" Jan of course had to scream yes the loudest and be picked on for a Beatles song (to which she said Ticket to Ride rather than something properly obscure). He then proceeded to sing it with words shifted forward or some such, fairly impressively (we're both sure the guy he got up on stage must have been a plant though). Pretty good all in all.
Dave himself was of course hilarious as always. The only trouble with Powerpoint Presentation is it's just too short! I won't give too much away but towards the end he mentions asparagus and wee. The wine had had an affect by then so I had to rush off to the toilet. This resulted in Dave heckling me and calling me a child. It was his fault though! At least this time we won't have to buy the DVD to fully remember what the show was about!
And then off to bed…
Wednesday
Another day, another visit to the cafe. And then Great Yarmouth, which was so strange, it has to get its own post.
Finished reading about the madness? Good. After we'd escaped back to Norwich we did have bit of a wander around, though everywhere seemed a little quiet. We did visit the Adam and Eve to convince Janet that she really had been there before—though she still couldn't remember the first time round. We also managed to call in the Temple Bar just down the road from the apartment, which we'd been passing all the time. I watched the football while Janet chatted to some young filly. Then, worn out from the Great Yarmouth experience, it was bed.
Thursday
Another morning, another visit to the cafe. This time we were laden with bags, which we learnt last time is a bit of an issue given that the station lacks left luggage. This time a bit of a query at the shop in the Forum while buying postcards to send ourselves (something of a tradition) revealed a solution. So, top tip for Norwich: If you go and see Building Services in the Forum they'll hire you a locker to store your bags in for the day.
Unburdened we went hunting for the shop we'd remembered for last time and seen on the first day but not gone in because of the bags etc. Took us ages to remember where it actually is though, eventually having to retrace our route up from next to Anglia Television before we found it! Evolution is one of those interesting little gift shops one picks things up from while on holiday. Suitably loaded we could then drop the shopping bag off at the locker (so much better than left luggage!) before continuing.
We didn't do that much else on Thursday to be honest. Just noodled round a little bit more, calling into a couple of the pubs. When we went to collect bags though we were given one last reminder of the strangeness which seemed to sandwich Great Yarmouth. There, at the top of the market near the Forum, stood an old lady, stock still. No idea what she was looking at or waiting for but she was there as we headed for bags and still there, unmoving, when we came back out…
And so to the train, this time with enough time for a relaxing final pint in the Compleat Angler rather than a rushed and half-left one! Ah, to be back in the Ribs again!