Friday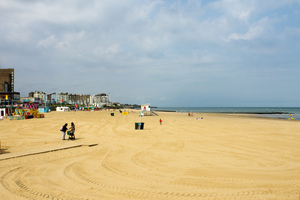 In a sort of I really like trains move Jan arrived down in London from Newcastle by train that morning. After a brief respite we hopped on a tube to Victoria to catch another train towards Margate (which seems to take far too long a time, given the distance). We had to move at one point due to being in the wrong half of the splitting train, but other than that could just sit and watch the pictures go by. The walk from Margate station round to the hotel seemed longer the first time we made it than it did later on, though maybe because we stopped for refreshments.
Ah the hotel; it again raises the question how we always seem to manage to always find the weirdness. On arrival we were greeted by the old ladies who seemed more concerned with their impending cup of tea than arriving guests. Once they paid attention they directed us to the closet of a lift—no kidding; there was barely room for both Jan and I to squeeze into the tiny space, with a single door, and the walls between floors on the way up touchable (this was the only time we took the lift, not surprisingly—though that was partly because we couldn't actually find it again!) The room was OK, but only OK. Just a shame about the stained ceiling and the window which would barely open (not to mention the extremely noisy toilet drainage). Never mind, we weren't planning on spending much time in it anyway.
So out we went. As we left one of the old ladies enquired if we were going out, and gave us directions. She declared she wouldn't send us one way as it was too dangerous! We seemed safe enough as we found the quiet Rose In June though. The few local patrons were watching some sort of talent show on TV (er, that would be the Olympic opening ceremony Jan). It was a fine night to sit outside, at least until one of the locals began to inform us how deprived the area is! And then we heard what may have been hell hounds howling and moved on.
The rest of the night was quiet and uneventful until we found our way back to the so delightful hotel and bed.
Saturday
With a long day ahead of us we headed down towards breakfast. We only made it as far as reception before the strangeness continued. A rather strange woman (staff, a guest, just passing through? We never did estabish) basically sold Jan a second hand skirt and blouse for a pound (sometimes its just easier to go with these things). We were shown through to the frankly huge dining room, with only us in it. There our delightful proprieter conveyed that she believed the earlier clothing vendor to "be a bit of an alcoholic. But then, everyone has there problems." We were then further amused by listening to her phone conversation where she complained of being rushed off her feet, especially as "he [presumably the aged man we had seen about] had gone to show a woman the bus stop" (is that a euphemism?!) To be fair breakfast, when it eventually arrived, was fine even if I've never been made to choose between tomato or beans before.
With breakfast eaten we decided it was probably best to get away from the strangeness around us so briskly headed out to sample the Margate's delights. It's a typical seaside town really (though obviously not as strange as Great Yarmouth. There was the beach resplendent in the sunshine, with the voice of god booming from speakers along the seafront, warning against barbecues too early. There was also the clock, which despite the appearance of having stopped was still chiming. We did take in some culture at the Turner Contemporary where we could look at Rodin's The Kiss and wonder at Tracey Emin.
That took us towards the afternoon so after a brief as possible stop of at the hotel we caught the train the few minutes to Birchington-on-Sea. On arriving we couldn't see the sea and so skipped the Seaview pub on the basis it was blatantly lying. The pub we did end up in, The Powell Arms, promptly pretty much ran out of beer. They did have bottles though and I thought the barman was going to become my friend for life when I offered up change rather than notes to pay—obviously they hadn't anticipated the beer swilling hoards heading down the road to Quex Park.
At least the next pub had some beer, and a guru type to give us a number for our lottery attempt (not that we won anything). Couldn't hang around too long, so onwards towards the park. When nearly there we found some sort of farm shop, taking advantage with beer and food outside. They also had a sheep and ram out the back to keep Jan happy.
Sound Island
Once we finally reached Quex Park there was a wish that we had taken more advantage of the tranquil pubs. The queue for beers was frankly huge. Whoever organised this had manage to get together a load of food stalls selling boring burgers that no one was particularly interested in and not nearly enough bar space. It became apparent that we'd missed Space as The Farm appeared as we stood in the queue. The organisation came under more suspicion as it also became apparent that the sound was all over the place, with vocal pick up particularly dropping down and up. The Farm struggled through it though, entertaining us as we edged on. I fetched burgers almost just for something to do. We still weren't much closer when the Inspirals appeared though, the sound problems continuing (the sound pretty much cut out at one point—not good, and obviously not the band's fault). They still confuse me.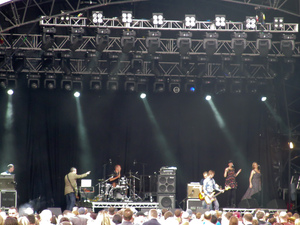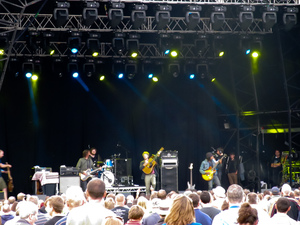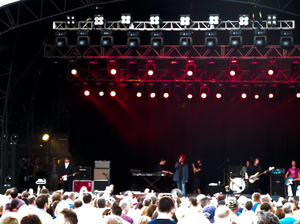 Finally we reached the bar, and stocked up on about as much beer as we could carry. That meant we did get to see Cast properly (not Jan's favourite band but I like them). They were good. By the time Echo and the Bunnymen came on we were in yet another beer queue. At least we were near the front so quickly could go and enjoy the music properly. They warmed us up nicely for the what, even with such renowned bands around, was the main event.
The sound problems seemed to still be in evidence when James took the stage, but they're sort of used to that. They checked and double checked then started acoustically, before blowing us away. I danced, Jan sat and enjoyed (the music, not the dancing). Darkness fell, the stage lit up. We went back towards trains happy.
On arriving back at the hotel the door release turned out to be the old man coming to open it by hand. Then bed.
Sunday
After dancing around I foolishly decided to skip breakfast for more rest. That proved to be a mistake, as once we'd escaped the hotel I became weak to the point of needing to find some breakfast! First though we tried to find a newsagents in Margate, which turned out to be ridiculously difficult. Eventually we did though, so I could head to the Mechanical Elephant to revive.
There was just time for a bit more wander around Margate—getting caught in a mad downpour of rain as we did. We took refuge in a little seafront bar, where we spotted an explorer (hat, 'tash and pipe. He could down a pint too). Oh, and the clock had started telling the right time again. Then for the train, which confused us and itself because it has to join up again but really does go straight through to Victoria.
All quite tiring, especially for Jan who then got another train back north, but worth it!