Actually, having just checked, I don't think I've ever used the word "random" in a post title before now. Anyway…
Just a couple of random things to strike me today, yesterday,, er, days before by now…
This story about Python's Life of Brian. Two things: a) The BBC can't find a still which isn't black and white?? b) The mayor of Torbay has never seen Life of Brian??
Talking of news on the BBC, for fuck's sake (pun oh so intended), grow up out your blinkered view (convince me that's not a religiously driven stance—or fools falling for anecdotal evidence. Remember the MMR vaccine idiocy? Talking of which…London appears to be heading for an epidemic not seen in decades because of such misguided FUD.
In other news, I like Danish Pastries, which is a hint to Lexitus who really should post about his latest job success so I can link to it . Oh, and visit Denmark.
In other news, Janet leapt off the Transporter Bridge; fortunately with some sort of big piece of elastic attached. I would have mentioned this before she did it but it only happened because a friend of hoer's called and said "fancy jumping off a bridge tomorrow?" Of course my girl was always going to end up doing it. I'm just upset I didn't get the chance to be there and take photos of the crazy pixie.
Having just used a semicolon in the above paragraph I had to go and hunt out the wonderful quotation from Kurt Vonnegut (who rests in my writer;s heaven with the likes of Douglas Adams and Phil K Dick):
First rule: Do not use semicolons. They are transvestite hermaphrodites representing absolutely nothing. All they do is show you've been to college. Kurt Vonnegut, in A Man Without Country
Oh yes. Joe Kinnear. Whisky, Tango, Foxtrot?
It's just about a year since I wrote about the car park (as I could now be considered to have a professional interest I'll point to the disclaimer here). It's still there, despite it being boarded off in a signal of intent (and isn't interesting how that article points out the car park is still open—disproving any notion of it being a totally useless white elephant—and mentions a…new car park!) The opportunity has not passed (nor, judging from their own forums do they necessarily have the overwhelming support they claim). It is still possible to do something other than tear to pieces an important piece of architecture. All the arguments made in my original post still hold. It would be very interesting to see what the stance were to be if Spenhill (Tesco's development arm) decided the economic circumstances aren't what they were (certainly they seem to be dragging their feet). Incidentally, they're a company who's website seems remarkably difficult to find, but for an idea of the wonders we might expect you could look here. A wonderful vision, I'm sure we'll all agree…
And I take so long to post, news moves on. Still no pictures of this wonder though.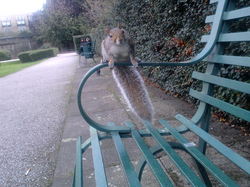 And finally, a squirrel. It's quite a friendly, unafraid squirrel which inhabits the park near my office. It actually got quite a lot closer than this phone photo shows, but kept flashing away when I tried to take a shot of it. I think it was interested in the bag I had on the ground at my feet while I ate my sandwich. I had to explain that I didn't think it would like the Cadbury's Whisper in the bag…