So after a break I was back into the kitchen last week and again this (before the traditional Sunday spot). Gooyness and cakey goodness follow.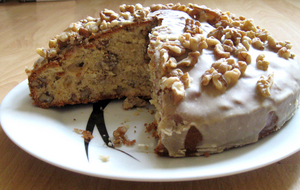 Week 3 consisted mainly of redoing things that didn't go quite right last time. So muffins in muffin cases and—because the pixie likes it!—more caramel chocolatey stuff (which went a lot better but I overdid the amount of caramel).
This Friday saw another cake produced, this one being the most complicated so far, being richer and requiring creaming and folding in of ingrediants. I'm pleased to say that my walnut fudge cake tastes very nice!