It's been pretty quite around here, even given my abysmal posting rate. Partly this has been because of general busyness but more recently because of one of those things that knocks the stuffing out of you. Janet's mam, Margaret, sadly passed away on 5 July. Though she'd been ill, and was in hospital, the expectation the previous week had been of her coming home—indeed Janet had been up in the family home running around making preparations for just such a thing. However, Margaret deteriorated over the weekend, leaving us with something of a shock and body blow.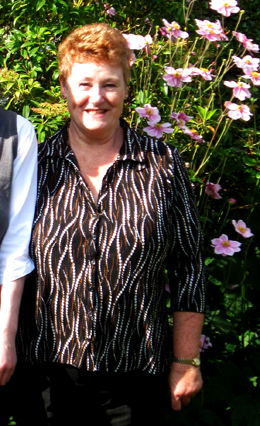 Margaret Davison 5 March 1946–5 July 2011
For myself I always found Margaret to be a wonderfully warm and welcoming person who, whilst she might have been fairly described as quiet, had a fabulous sense of humour. I find it quite hard to accept that we won't be able to find her waiting for our trips north.
The funeral and goodbyes were last Tuesday, all going as well as can be expected. I've been up Gateshead for a week, work having kindly rearranged the holiday I had booked off for this week. Mostly that has just been coming to terms with things and dealing with arrangements (not that I personally did much), though we did manage a little trip to Durham (post to follow)—if only because it is good for the soul to get away from such things a little.
Jan is still up north, sorting out the estate (her father, Roxby, having passed before I had the chance to meet him) and looking after the two cats we have inherited. Thankfully she has her cousin Angela and particularly Auntie Maurine to lend help and guidance whilst I hold the fort back down here and we figure out our next steps.