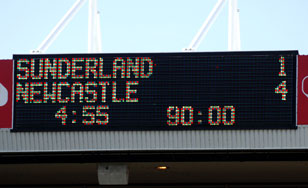 Oh yes!! :-D Bye bye mackems. I feel it may be some time until we meet again.
Ah the game. Frankly we were woeful first half, and possibly not doing much better second (though even then all the enemy had managed to offer was the goal and little else). If Roeder has one thing though it seems it's divine intervention and that must go down as a substitution inspired by a burning bush or something. What a point to score your first prem goal too. And if the miracle of the equaliser wasn't enough the messiah himself was then given the chance to place on this clubs resurrection His mark---more of him in a moment though. An obviously dejected and suddenly lost mackem side then watched in bedazzled bewilderment as N'Zogbia belatedly remembered that he's a canny player and waltzed his way to some goal. Words must also be said for Luque who finally showed something of what he is capable. I've been saying forever that he just needed something to go his way; I hope now we just start him and that he goes on to prove me right.
The final words must be reserved for the man who's name has rang out more than anyone else's though. That he was felled in the dark place may mean that's all she wrote, but like all falling heroes he went down in glory with the job done. Where better to leave us than with the ball in the net that matters more than any other. If (and it seems pretty likely, given the obvious pain and disappointment when the man himself talked) Shearer fails to quite make it to the end of the season then perhaps it is a fitting analogy for his Newcastle career. Within sight, fighting to the last and if he fails, well, not in our hearts. He may not have the silverware that at times he and we have deserved but he does have something a thousand trophies at some other clubs couldn't give---the legendary status, the adulation, forever being named in wonder. And the knowledge that the dream he had when he stood on those terraces, of being that number 9, is reality. What more could a Geordie want.
Shearer Shearer Shearer Shearer Shearer Shearer Shearer Shearer...
(@09:04)